Jacque Fresco (March 13, 1916 – May 18, 2017) was an American futurist and self-described social engineer. Self-taught, he worked in a variety of positions related to industrial design. Fresco wrote and lectured his views on sustainable cities, energy efficiency, natural-resource management, cybernetic technology, automation, and the role of science in society. He directed the Venus Project and advocated global implementation of a socioeconomic system which he referred to as a "resource-based economy"
Hypothetical form of government
Fresco described his form of governance in this way: "The aims of The Venus Project have no parallel in history, not with communism, socialism, fascism or any other political ideology. This is true because cybernation is of recent origin. With this system, the system of financial influence and control will no longer exist."
Ludwig von Mises Institute scholar Robert P. Murphy has raised the economic calculation problem against a resource-based economy. In a resource-based economy, Murphy believes there would be no ability to calculate the availability and desirability of resources because the price mechanism is not utilized. Addressing this aspect, another article in the Quarterly Journal of Austrian Economics states criticism of "central plannings" computation problem applies to the ideas of Fresco.
The Venus Project and later career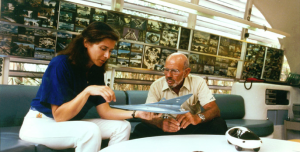 Fresco, with his partner Roxanne Meadows, supported the project in the 1990s through freelance inventing, industrial engineering, conventional architectural modeling, and invention consultations.
In 2002, Fresco published his main work The Best That Money Can't Buy. In 2006, William Gazecki
 directed the semi-biographical film about Fresco, 
Future by Design
.
 In 2008, 
Peter Joseph
 featured Fresco in the film 
Zeitgeist Addendum
 where his ideas of the future were given as possible alternatives. Peter Joseph, founder of 
the Zeitgeist Movement
 began advocating Fresco's approach. In April 2012, the two groups disassociated due to disagreements regarding goals and objectives.
[10]
In 2010, Fresco attempted to trademark the phrase "resource-based economy". The phrase was reviewed and found to be too generic, so the trademark was denied.
Throughout 2010, Fresco traveled with Meadows, worldwide to promote interest in the Venus Project. On January 15, 2011, Zeitgeist: Moving Forward was released in theaters, featuring Fresco.
In November 2011, Fresco spoke to protesters at the "occupy Miami" site at Government Center in Miami. In April 2012, Roxanne Meadows released a film, Paradise or Oblivion, summarizing the goals and proposals of the Venus Project. In June 2012, Maja Borg screened her film, Future My Love, at the Edinburgh International Film Festival featuring the work of Fresco and Roxanne Meadows.